How do you express the heartbreak we all feel?
How do you recover? Will the pain ever heal?
The tears that we have shed would have filled the river Wye.
Hereford seemed silent, breathing just a gentle sigh.

I am trying to express, how everyone has been touched.
By this lad who we loved so very much.
He took what life had dealt him, and made his family proud.
Ainsley Luke, you stood head and shoulders above the crowd.

I am lucky that I knew you, at your worst, and at your best.
Running round my garden, putting your mum's nerves to the test.
It has been so hard to write this, I see you so very clear.
I know that you have joined your dad, but we still feel you near.

You were sent to earth for a purpose, and in those very few years.
You touched so many lives it's obvious by the tears.
Handsome, tall and debonair, cheeky, and full of fun.
If there were a prize for beating the odds, you surely would have won.

Its time to let you go fishing and rabbiting with your dad.
We know you will enjoy it; we are just all feeling sad.
This is not the end, just bye for now until we meet again.
I just wanted to add in our hearts you always will remain.


Kim Louise 5/5/2008
To the little boy that had
The twinkle in his eye
Love and hugs forever

Kim, x
Picture from Hfd Times Barbara and Ainsley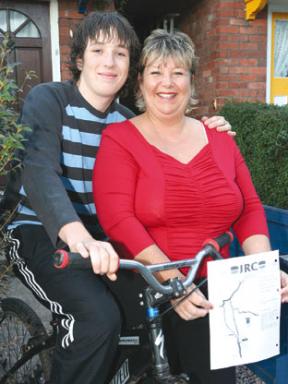 (Picture from Hfd Times Barbara and Ainsley)
Ainsley Luke Smith was taken from us on 3rd May 08. on his way to work in a RTA At just 17 years old he was training to be a chef .Following the death of his father in July 2005,he had faced his demons which at such a tender age is pretty hard, and was about to embark on what promised to be a fantastic career he wanted to make something of his life. That is the official blurb that everyone gets to read, but I asked Ainsley's mum if I could share this poem because , I can't even start to put into words what this family had gone through. Something held Barbara ,together support and love, inner strength and a knowledge of this is not it. This cannot be it, this lady is amazing for her courage and an inspiration to others who have lost someone dear to them..... Ainsley's death woke me up and made me realise I couldn't carry on like I was because it was a waste of a life MINE.... x


This was My Tribute to The Boy Who Played in the Garden
This physical life we have on earth is only on loan to us maybe we will have many years or only the briefest of time, and it is up to us to make the most of what we have. Barbara has lost her son Ainsley in a tragic accident he was only 17, this is less than three years after Phil her husband died from cancer. This has shaken the community to its roots.

Why them? Why Ainsley? was the question we all asked

Well when the tears stop you will begin to realise that this young man that seemed to have his whole future ahead, had achieved in those few short years what many of us struggle an eternity to find,
How?

He had come to terms with the death of his father,
Kicked out at the world for a short while, I think secretly he enjoyed the kicking out bit
Then grabbed life in both hands and lived,
He found the career and job that made him happy,
He loved his family with a passion
Mainly he just wanted to make his mother proud,
He had a wonderful girlfriend on his arm
He had stopped feeling oh woe is me and had I suppose seen the light.

It is hard for his family and friends to accept that this was just meant to be, but I hope they and everyone else here can take comfort in the fact that this young man touched the hearts of so many, and taught these people that life is for living in the here and now, not some far off distant dream. His mother is a tower of strength to all his friends and family because in her heart she knows they will all be together again. We all have a purpose to serve on earth, never quite knowing what.

Ainsley found his purpose. Through our sadness we can learn and grow .I have cried many tears for this boy as have so many but his wonderful attitude to life is a lesson I will never forget.

Live, love be happy.
Till we meet again in memory of Ainsley Luke Smith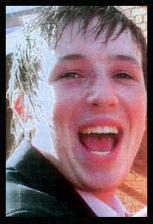 UK Copyright Law fact sheet from the UK Copyright Service.
Kim Louise also writes under the names of Kim Evans, Cerys Andrews and Kim Nash.